Thomas Laranjo, Chief Executive Officer of our partner agency Total Media, explains in 169 seconds how gaming works.
Allocation of Gaming platforms
Gaming & eSports
From the influence of Covid-19, weekly playing time has now also doubled to 10 hours according to the digital association Bitkom. As a consequence, sales of video games and consoles are also booming. The games market is now already standing out as one of the big winners of the crisis:  in 2020, around 8.5 billion euros was turned over with computer and video games as well as the associated hardware – 32 per cent more compared to the previous year. With an increase of 1.1 million to currently 17 million players, the console was able to push to second place in the most popular game platforms. However, the Germans' favourite device for gaming is and remains the smartphone: in total, 22.6 million German citizens reached for their smartphones to play games.
Yet, not only playing video and computer games but also watching video games and eSports transmissions has gained in appeal. Meanwhile, the live streaming portal Twitch is recording around 60 per cent more spectators than before the pandemic for German streams. Admittedly, the hype will die down again with increasingly more free time options. Nevertheless, the gaming and e-sports industry will continue to grow at a then higher user level.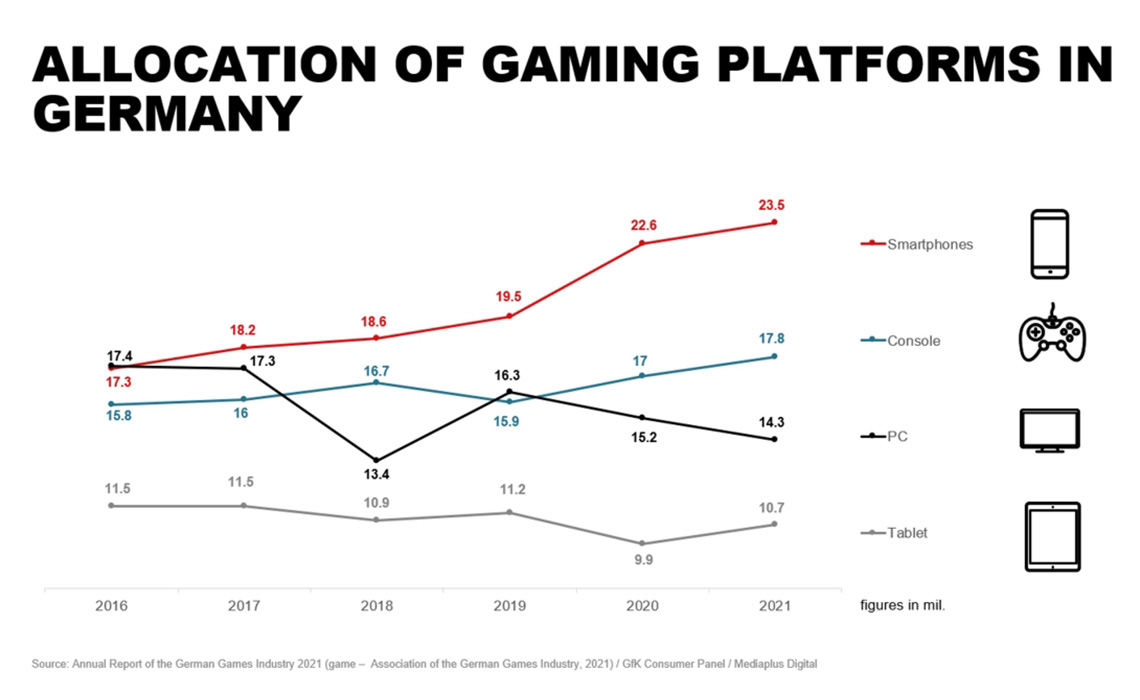 The underestimated entertainment giant
Gaming target groups
Even before this boom, gaming and eSports had developed into one of the trending topics in marketing. A gigantic content market with editorial environments, successful influencers and content creators as well as continually growing social media and community platforms has arisen around the video games world. This provides countless links for brands. However, at the same time, from a brand perspective, it is important to understand that gaming is not a "channel" but a form of entertainment around which a unique consumer behaviour has developed.
We at Mediaplus define gaming therefore as a distinct media genre that spans many touchpoints and also reaches very different target groups. For, against all expectations, gaming is not only a young medium; on the contrary, the average age of players at 37.4 years old is constantly increasing (2016: 35 years old). In the meantime, the 50- to 69-year-olds make up a third of the gamers (30 per cent).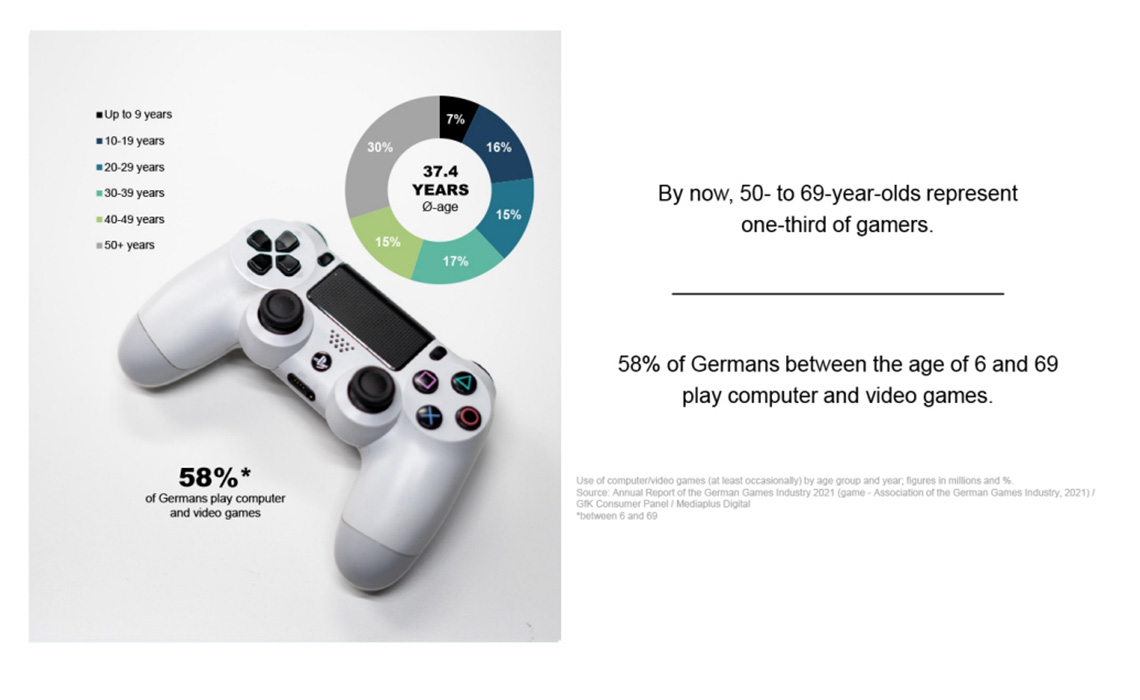 Attractive target group, challenging marketing
Gender distribution
Of course, games and eSports nevertheless offer perfect opportunities for contact, especially for young people aged between 10 and 29 who are currently only to be reached to a limited extent via conventional media and, in the future, will be even more difficult to reach. According to a study by the gaming analysis company Newzoo, video games are some of the most popular recreational activities of Generation Z. In the process, gaming has even overtaken activities on social media: a quarter of Gen Z's free time is spent on video games, while 18 per cent is spent on social media and 17 per cent on streaming video content. The same also applies to millennials, for whom video games make up 21 per cent and streaming 19 per cent of their total free time.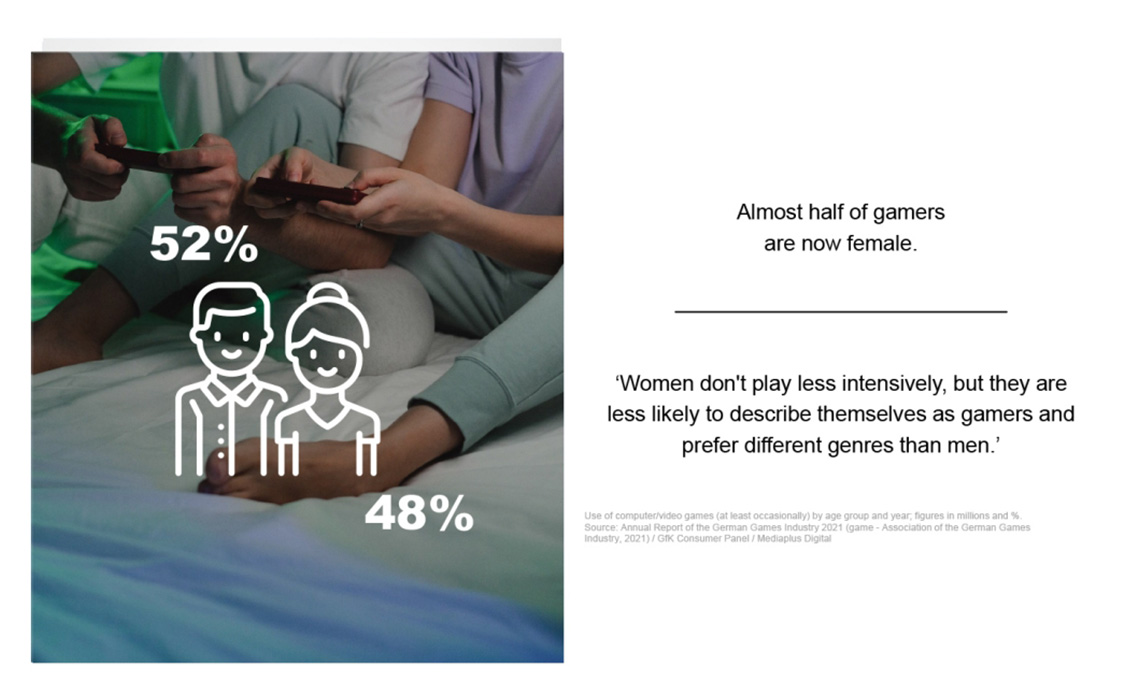 Gaming as a marketing environment
Media, Content, Sponsoring
Gaming is an excellent, but also challenging marketing environment
Gaming is competing for time and attention with other media in numerous target groups and is an excellent environment for brands. Attractive target groups, often hard to reach through other means, high levels of message multiplication through strong communities and unique halo effects in an innovative and dynamically growing scene help brands in fulfilling their communication objectives.
Marketing in gaming environments can only be successful if a high level of understanding of the market and target groups is connected with the correct strategic media and creative implementation. The market is too complex for experiments and the target groups are challenging.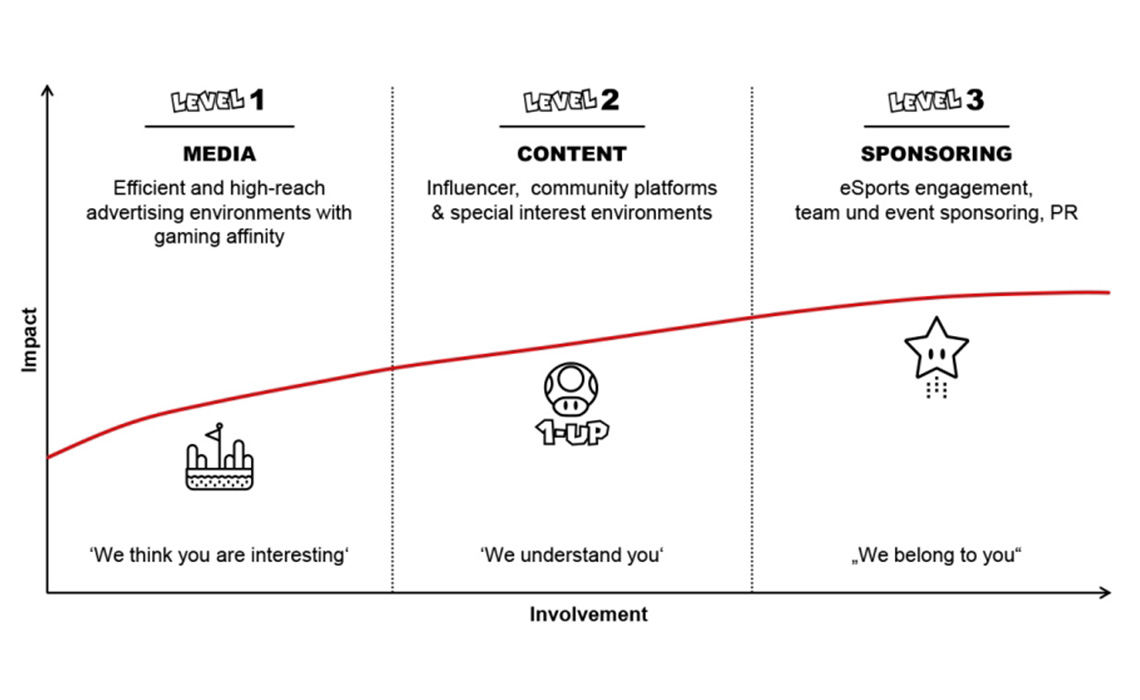 In interactive workshops we bring you up to speed on all things Gaming & eSports:
•             Fascination and inspiration
•             Touchpoints
•             Target Groups
•             Brand fit and messaging
We develop a fitting Gaming and eSports brand strategy and communication concepts.
•             Communication and brand strategy
•             Media strategy and planning
•             Influencer and content strategy
•             Sponsoring strategy
We take care of the integrated and seamless execution of your Gaming and eSports campaigns
•             Developing ideas and creative assets
•             Execution of media, content and influencer campaigns
•             Pre-testing and campaign impact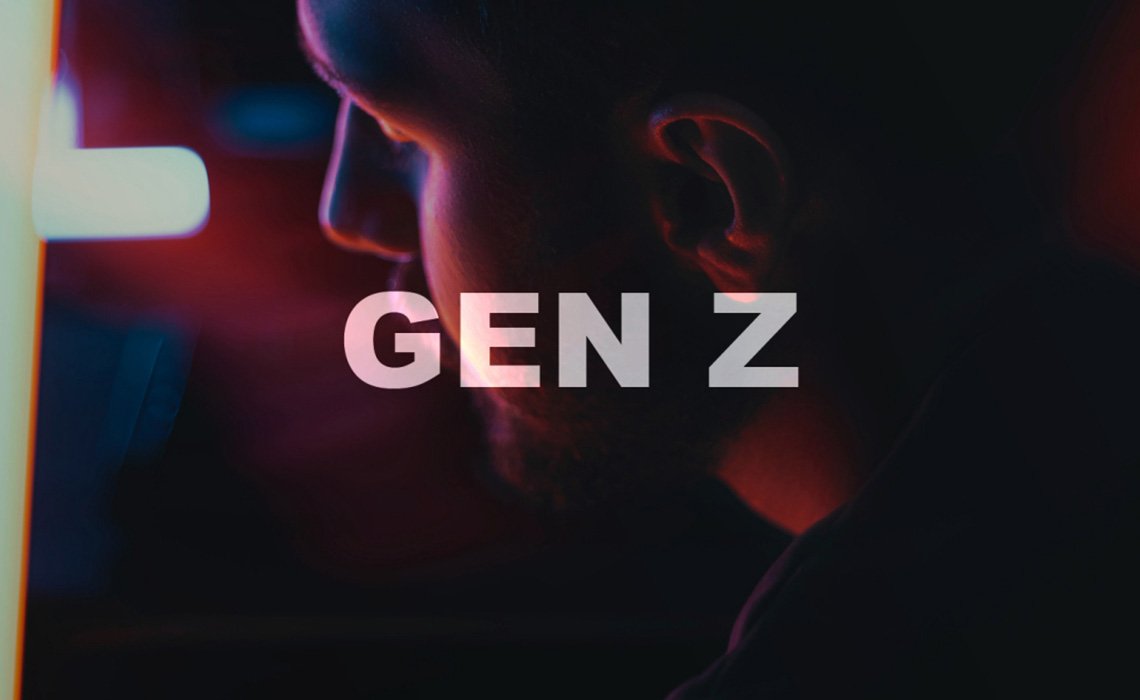 YOU MIGHT ALSO BE INTERESTED IN:
They are the most important trendsetters of our time: From Gen-Z behaviour, we are already learning today what will be important in marketing in the future. The media use, attitudes and values of people born in 1995 and later influence not only their own consumption, but also the behaviour of subsequent generations - far beyond the Internet. But how do you reach this target group which largely eludes classic media usage patterns?
Let's get in touch with us!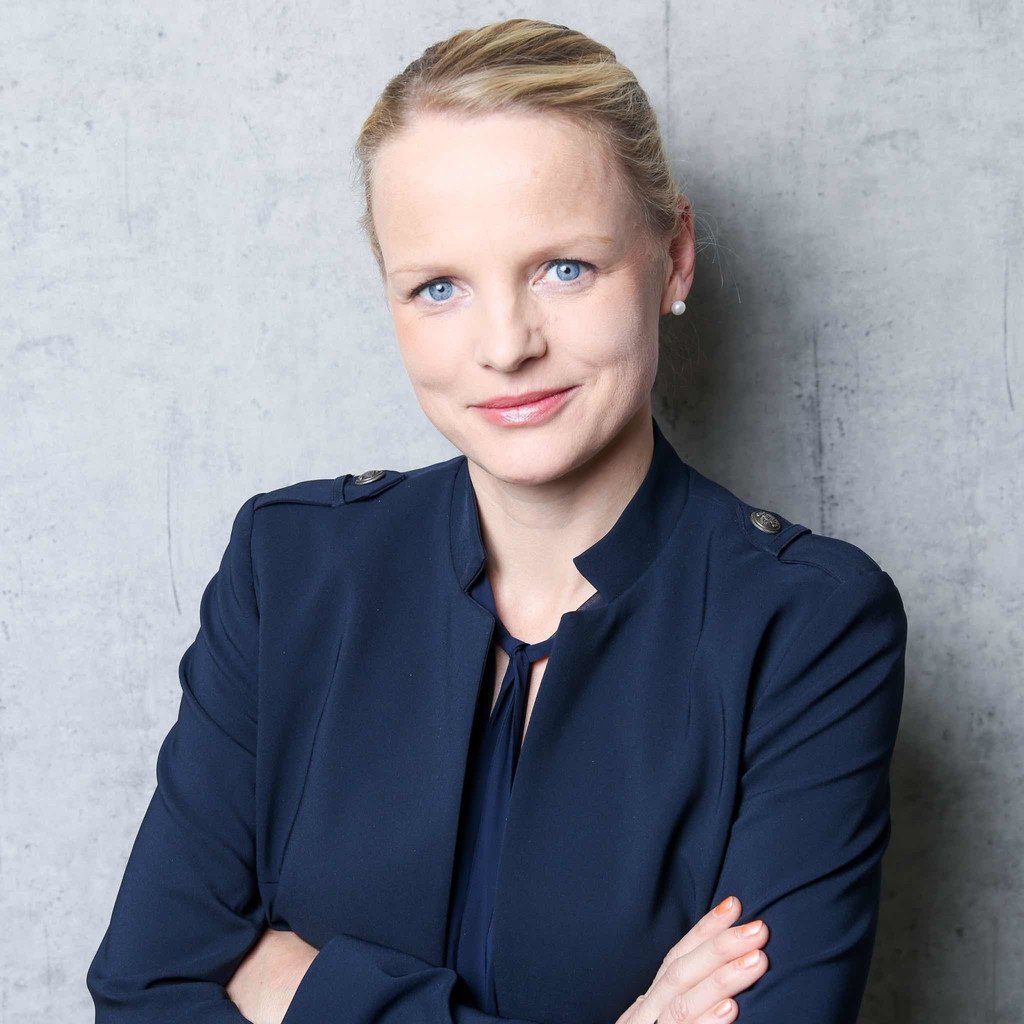 Let's get in touch with us!