Julian Simons, Managing Partner Mediaplus Realtime, explains in 167 seconds how Realtime works and what advantages it offers you.
MEDIAPLUS REALTIME
Realtime Analytics
Up to now we have failed to make use of all the real-time data that is available to us. Conducting research and implementing a campaign are often two separate processes. Even though insights into target groups and products are usually channelled into the campaign design, as soon as the campaign goes live, the data is often only used to optimise marketing KPIs. And while consumer behaviour often changes in real time, this new information rarely goes towards adapting the campaign strategy.
MEDIAPLUS REALTIME ensures that all available data and information are constantly brought together and analysed in one place.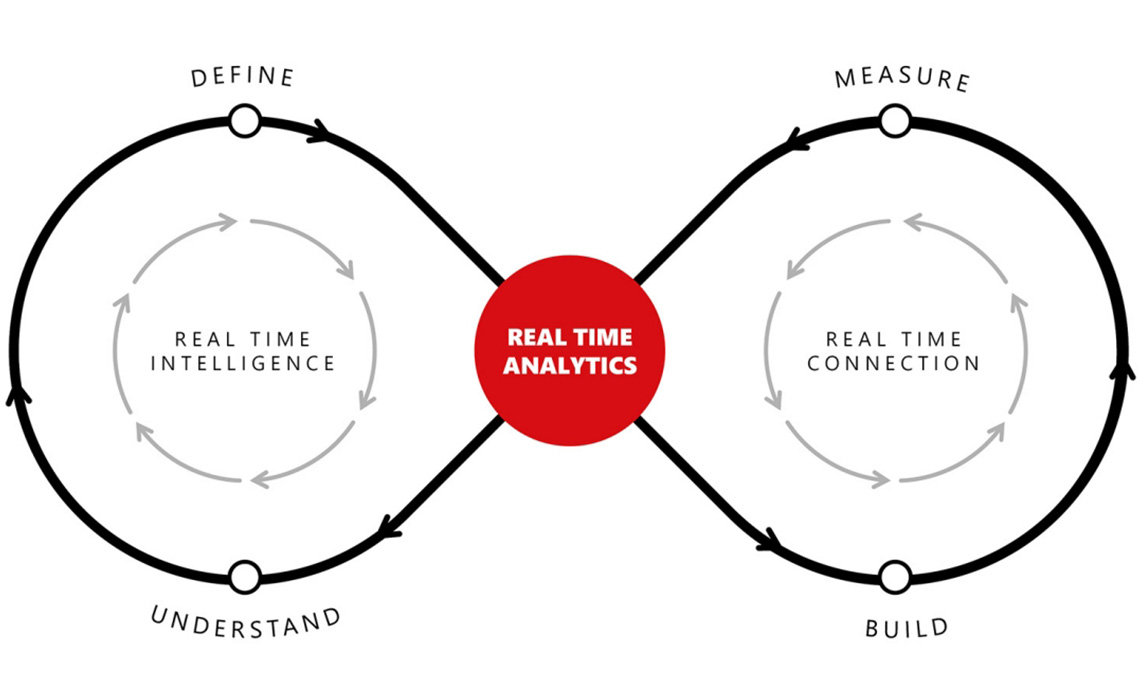 As well as bundling its programmatic marketing expertise in the Mediaplus Group's integrated and data-centred consulting, knowledge and implementation hub, the agency includes all resources across the board for a globally scalable campaign planning and implementation in real time. By linking insights, (smart) data, media inventory, creation and state-of-the-art tools, we work together to manage the ever-growing complexity of programmatic advertising. Take a look at how real-time communication works with Mediaplus Realtime.
MEDIAPLUS REALTIME
Ways of working
Mediaplus Realtime takes responsibility not only for acquiring and booking all programmatically controllable channels, but also for processing and optimising them. As well as online campaigns across all devices, this includes channels such as TV, radio and out-of-home that have been booked the traditional way up to now. Our operational experts orchestrate all channels with a view to defining and activating the most relevant touchpoints in the media mix.
In addition to the Programmatic teams at our German offices, central roles are played by the Data Analytics Hub in Brussels, the Programmatic Hub in Warsaw and the Strategy & Planning team in Munich. All of these are connected through a joint data platform. Talented specialists can be deployed throughout the entire global group regardless of where they are based. This real-time connection also allows us to continually improve products and to scale local developments in real time.
This in turn leads to a new era of data processing and utilisation. With each individual media implementation, we have the chance to collect behavioural data. Where do we reach our target group? Who will be online? When and where? Who has already seen the commercial on TV or the billboard advertising outside? Why is a specific visual clicked on more than others? And above all, why do consumers behave in a certain way?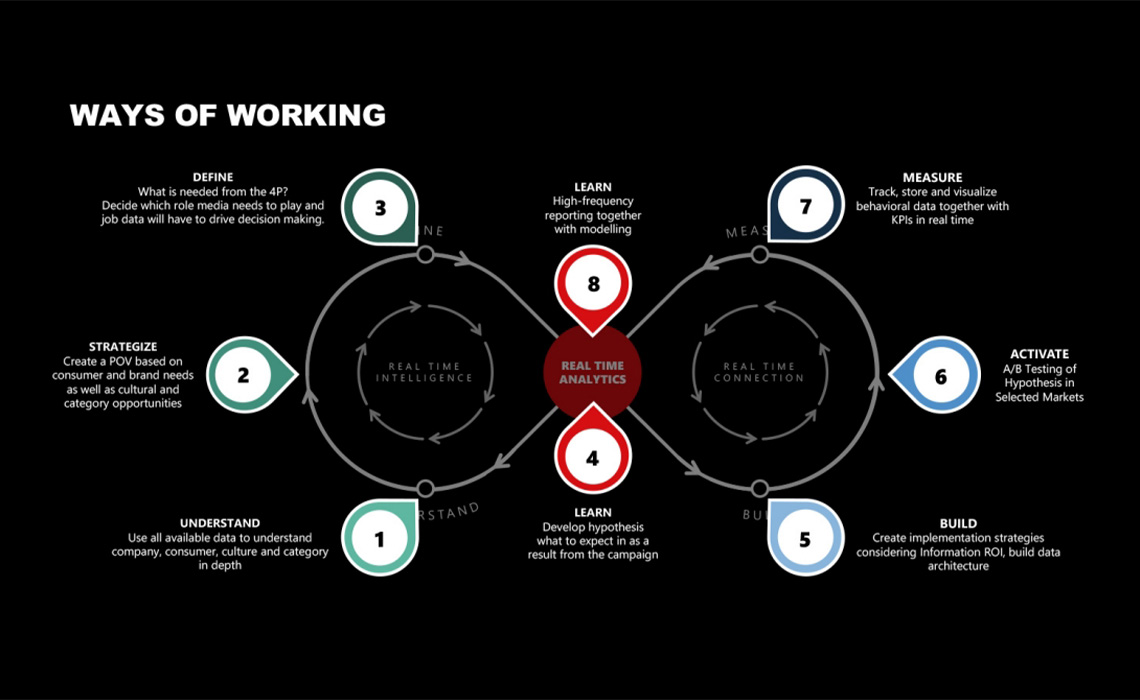 Are you determined to accelerate your organization? Do you want to secure your position in a world that is becoming more complex every day? To secure a firm place in the hearts of consumers in an increasingly competitive environment? Then let's work to achieve this together.
·       We'll demonstrate how to generate, merge and harness real-time data for much more effective and efficient impact.
·       We'll show you how to be more agile in responding to your customers' needs.
·       And we'll show you how to optimize your revenue or sales figures with the help of real-time data.
Your challenge 
Video streaming on Connected TV (CTV) is a mass phenomenon. Its importance for advertisers is growing rapidly. With digital tracking solutions, user engagement can be tracked and understood. Here, programmatic campaign infrastructure enables real-time, data-driven campaign optimization. However, CTV still faces four major challenges: Limited access to premium inventory, a highly fragmented landscape, no established ID and targeting solutions, and no standards for measurement. Mediaplus Realtime CTV meets these challenges head on.
Our solution
MP Realtime CTV is our global, standardized solution in a fragmented media market. With a centralized but globally effective tech stack, we execute campaigns with internationally consistent approaches that simultaneously take national specifics into account. A unified ID and targeting solution enables effective and seamless data strategies for regional and global campaigns. The Mediaplus Premium-First lnventory Pool combines brand safety and reach. Coordinated KPI metrics and tracking deliver easily comparable and meaningful results.
Your challenge
For leading providers, different legal frameworks around the world and individual ways of dealing with them create more and more data silos, leading to marketing efficiency losses. At the same time, growing costs and competitive pressures require holistic analyses across all available data and channels to enable holistic optimization of all marketing and sales activities.
Our solution
Our specialists can show you how we link data silos, reveal hidden connections, and optimize interaction of all channels. We further develop and evolve your individual analysis architecture. Our "Data Clean Room" technology provides a data protection-compliant environment that enables data merging without disclosing data.
Your challenge
Recent developments in data protection, regulatory measures (e.g. GDPR, TCF 2.0) and technical restrictions (e.g. ITP, ETP, Sandbox) are increasingly limiting targeting possibilities. Without new approaches, data-driven, efficient digital advertising will come to an end.
Our solution
The Mediaplus targeting specialists would be pleased to present NE.R.O. AI – our 100% cookie-free and GDPR-compliant targeting solution incorporating several million URLs worldwide.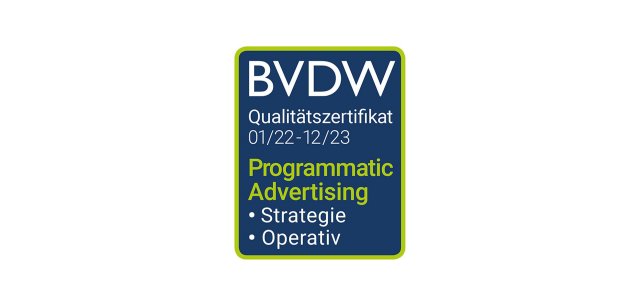 Mediaplus Realtime was awarded the Programmatic Advertising Quality Certificate from the German Association of the Digital Economy (BVDW). This seal attests to our professionalism and high level of expertise both in strategic consulting (Strategy) and operational campaign management (Operations).