Welcome to House of Communication Berlin
As thematic as the capital itself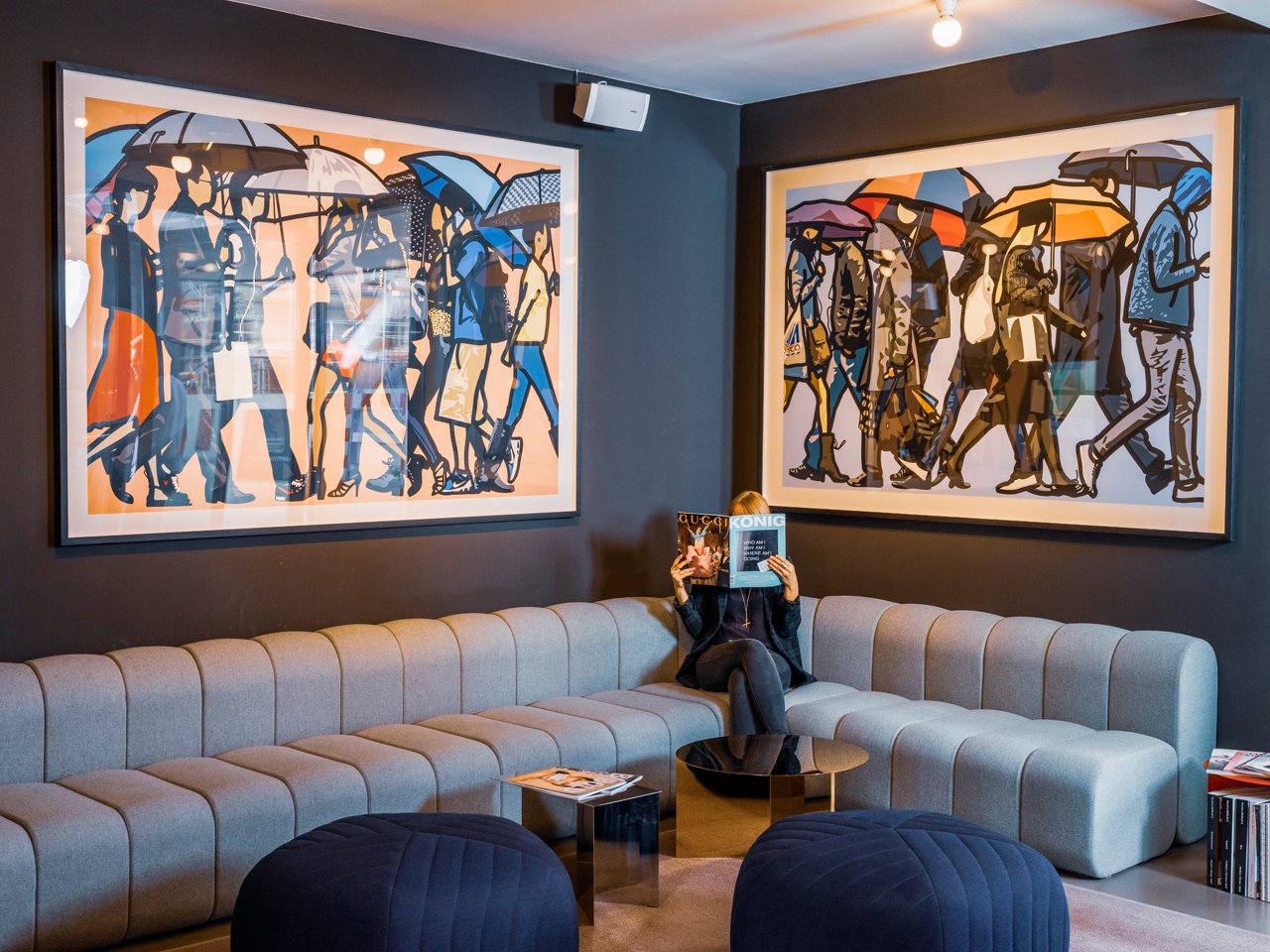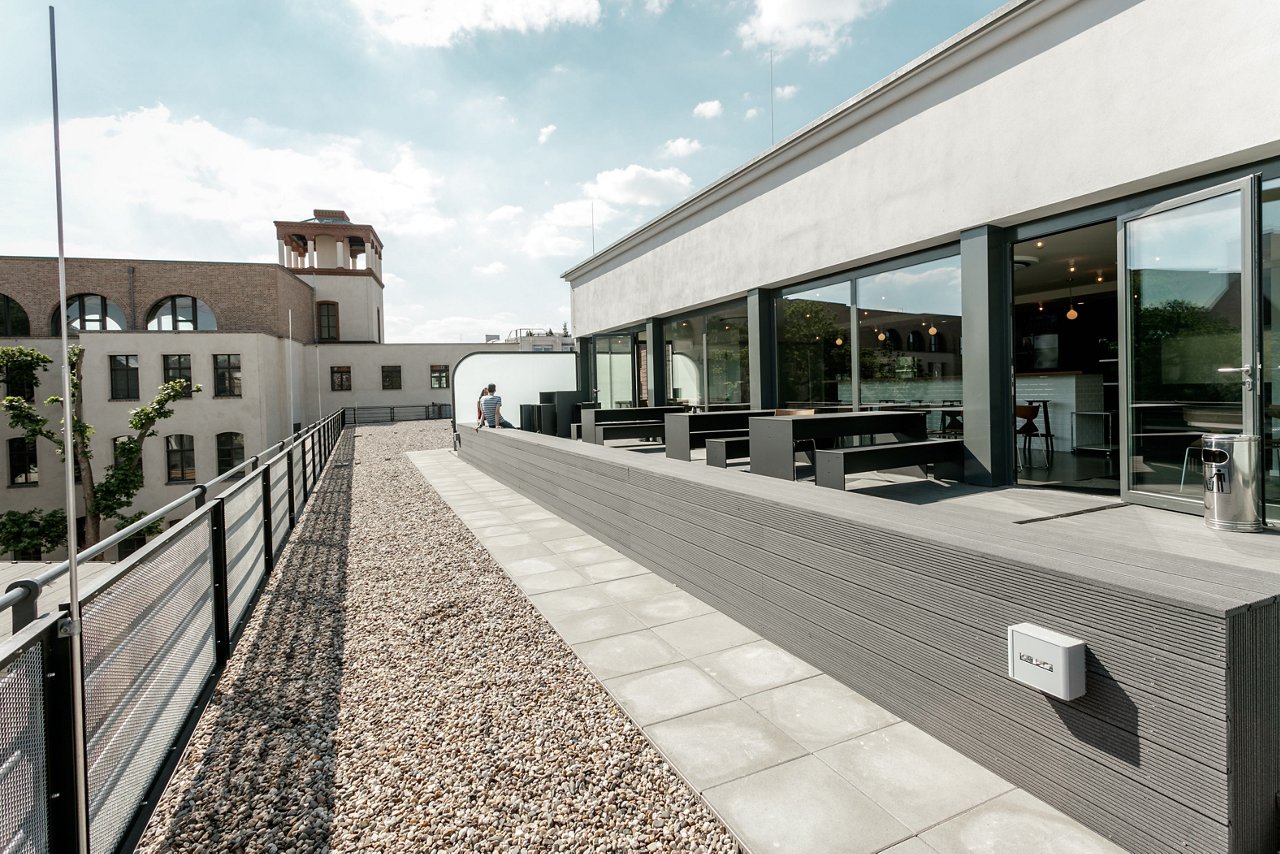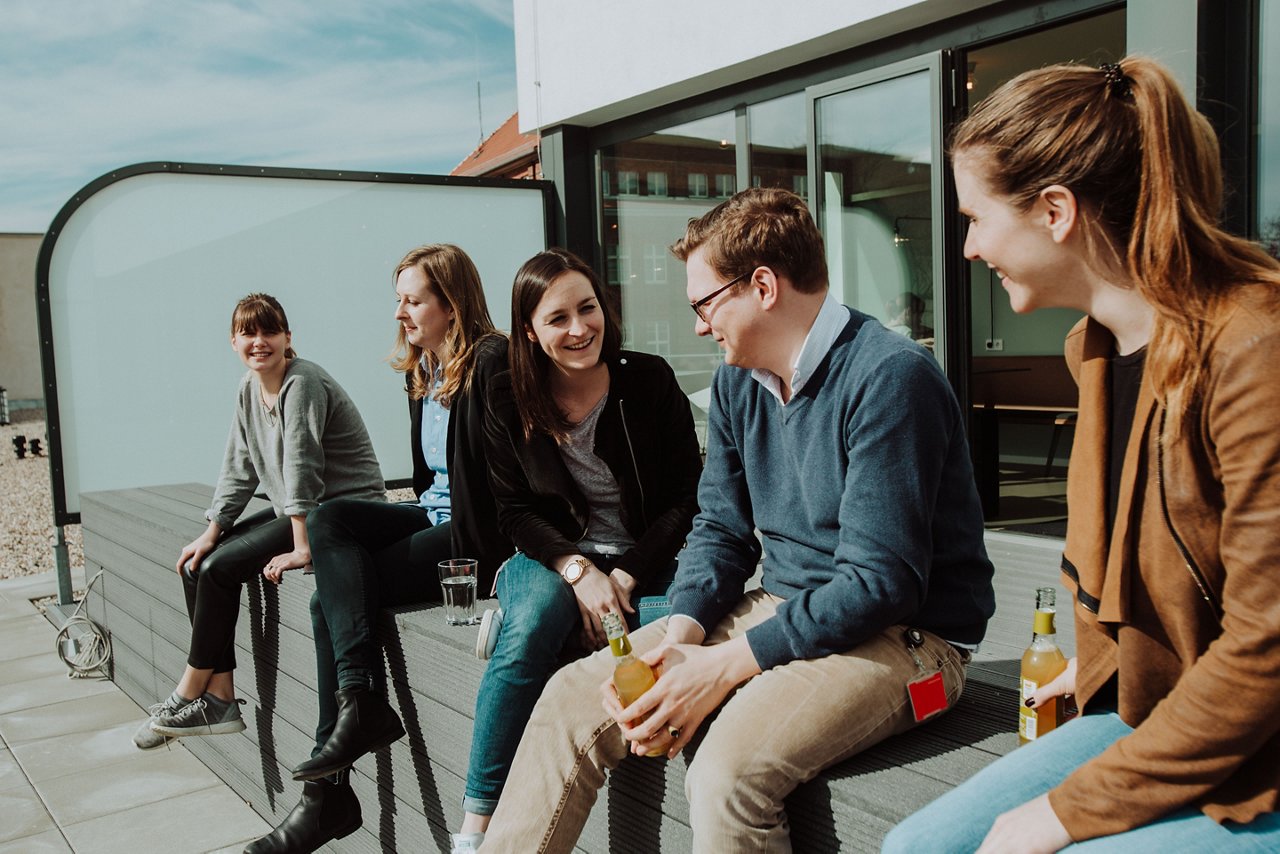 What makes us tick
Fully innovative
The Serviceplan Group in the capital is located right in Berlin Mitte between Museum Island and Monbijoupark, just around the corner from Google and YouTube, in direct contact with the start-up scene and within shouting distance of the government quarter. Here, 180 inspiring people from the creative, editorial, media and technology sectors work together innovatively and in constant communication. This creates change that makes a difference for our clients, in markets, in society and in the industry. It is not by chance that we call the distinctive culture of success at HoC Berlin IMPACT. And this is exactly how we accompany our clients through social and technological change in the best possible way.
What makes us tick
Fully integrated
A conversation presupposes that our interlocutor might be right and this willingness in dialogue is the credo of the House of Communication Berlin. The team of communication experts from different agencies and trades works with dedication and passion, fully integrated under one roof. Mutual inspiration characterizes work processes just as much as joint celebrations. Everyone is allowed to freely develop and unfold their personal strengths. Here, you don't cook according to a recipe, but think up better ones. Every team is tailor-made, depending on the client and the task. Because we don't just work for our clients, we prefer to work with them.
What makes us tick
We like strong themes
Berlin is the capital of creativity, digitalization and the Federal Republic of Germany. This is exactly our orientation at the House of Communication Berlin: forward-thinking, thematically strong and courageous. With this mindset, we develop innovative sales, image and theme campaigns for brands, service providers and start-ups. Together with our clients, we want to make a difference, whether for their brands and products or for challenges in terms of political and social communication. We stand for effective change for federal ministries and associations as well as for corporate and reputation issues for groups and medium-sized companies - locally, nationally and worldwide.
What makes us tick
Listening
In the podcast "House Visits" from House of Communication Berlin, we talk to people who inspire us about topics that interest us, about communication, creativity, complex contexts and simple solutions. Because we are just as passionate about discourse and dialogue as we are about the discussion of relevant topics and their creative staging. We regularly feature contributions from site manager Benedikt Göttert with internal and external interviewees.
More about the podcast: Home visits - podcast (podigee.io)

Team
Bright minds in Berlin
"Creative campaigns and effective communication measures are developed through inspiration, discussion and the exchange of the most diverse expertise and personal backgrounds. Our most important working tool brings all this together: the House of Communication."
House of Communication Berlin
Plan.Net
As a partner for digital experience and technology services, we optimise your customer journeys at all touchpoints and effectively bring your brand promise to life with state-of-the-art technologies. We advise you on your strategy and support you with our international delivery teams to design, develop and operate your Commerce and MarTech platforms and ecosystems. Our solutions are data-driven and creative at the same time to understand your customers' behaviour in order to create personalised experiences with your brand and activate them by media.
Further information
Plan.Net
Mediaplus
As the world's leading independent media agency, we help our clients achieve sustainable growth by optimizing media investments in real time. We also enrich our strategies with insights into media usage and buying behaviour, as well as brand and product interests. Using our globally applicable social, performance, commerce, programmatic and traditional buying capabilities, we precisely target consumers and bring greater effectiveness to our clients' communications activities.
Further information
Mediaplus
Serviceplan
Serviceplan has been creating fascinating brand experiences as an independent, partner-led creative agency since 1970. Our philosophy is built on creative power and a pioneering spirit committed to developing strategy, concepts and content. As a full-service agency, we put our expertise into practice to transform abstract narratives into engaging campaigns and unique content. It's how we bring your Best Brand to life – making it sustainably successful, global and regional, integrated and customized.
Further information
Serviceplan
Born integrated
Integrated. International. Independent. Innovative - That's Serviceplan Group. At our Houses of Communication, we combine these principles to achieve one goal: Transform your brand into the Best Brand. How? We combine all communication disciplines from the special agencies under one roof.
Find out more about our agency groups.
Join the Berlin Team
Would you like to become
part of the Serviceplan Group?
Strong communication, creative concepts and smart campaigns that follow a clear line are your thing? Do you fancy a capital city flair and a team in which integrated working and free development are more than just empty words? Great, we are a match! Waiting for you at House of Communication Berlin is a huge array of topics and clients, a wide variety of expertise and passions, regular events and a great deal of inspiration.
AGENCIES
These are our on-site experts
Campaign
Serviceplan Campaign Berlin develops integrated creative campaigns for national and international brands. We work for FMCGs, public clients as well as not-for-profit organizations.
 
Reputation
Serviceplan Reputation is your agency for dealing with complex communication tasks in the areas of business, politics and society. Our clients are large and medium-sized companies as well as ministries and associations.
Mediaplus Berlin conceives, plans and implements cross-media campaigns at a national and international level. We work together in a strategic, creative and fully integrated way to achieve precise and efficient media control.
Plan.Net Berlin develops technological solutions to fulfill comprehensive communication tasks while ensuring direct access to the digital expertise of the entire Plan.Net Group.
The strengths of two industry leaders are combined in one agency. The editorial expertise of Bauer Media meets the creative excellence and the strategic and technological edge of the Serviceplan Group. We make the development and operation of comprehensive content-marketing architectures available to our clients, from target-group specific corporate publishing products to newsroom concepts and content hubs to shareables and influencer marketing. We turn brands into Best Content Brands that enrich people on a daily basis and thus find a permanent place in their minds and hearts.
The agency of the Serviceplan Group, with its comprehensive expertise, has offices at all German locations - Munich, Hamburg, Berlin and Cologne. Here specialized teams provide much more than classic-brand, product and corporate PR for content marketing, social media, influencers and CEO positioning. The team based on the Spree primarily provides first-class content marketing specialists.
Serving as an agile agency, through strategic and innovative advice for brands, marketing and sales, the Serviceplan Group brings companies forward in a targeted manner, with innovative products and services as well as networked sales. We support our clients in the development of future-proof organizations through inspirational brands, innovative products and services, an identity-creating culture and effective communication.
All important marketing disciplines are united. With target-oriented strategists, data-loving techies, creative designers and passionate storytellers on board, we break new ground in brand communication and create experiences that inspire people and move brands forward. We sail effortlessly between analogue, digital and social worlds.
News
What moves us in Berlin
WELCOME TO HOUSE OF COMMUNICATION BERLIN
Here we are
Guests who would like to visit the House of Communication Berlin
can easily reach it via Ziegelstraße 16, Berlin, 10117. On foot,
by car or by public transport.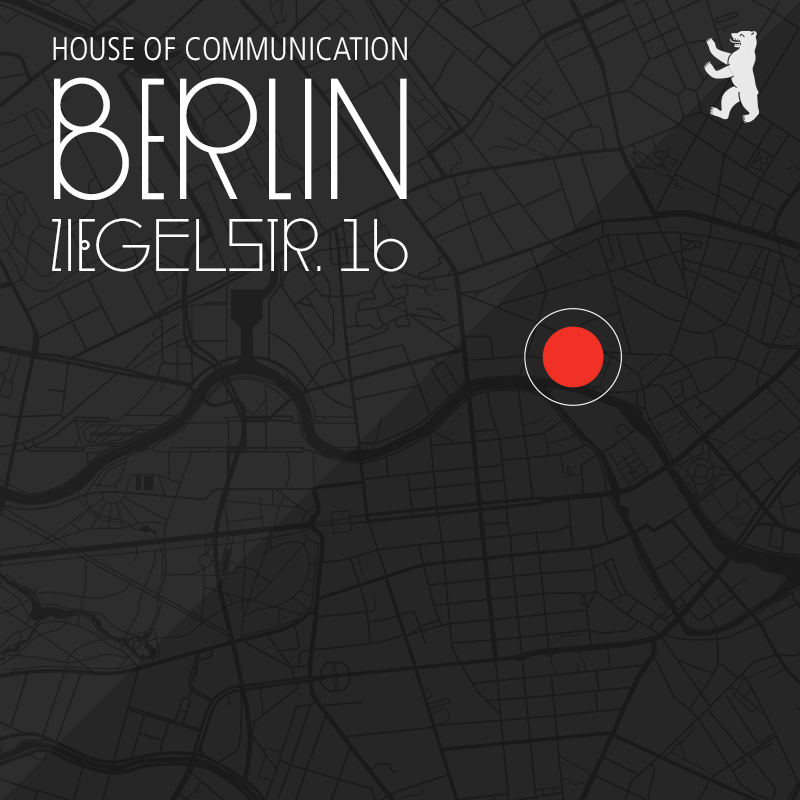 Let's get in touch with us!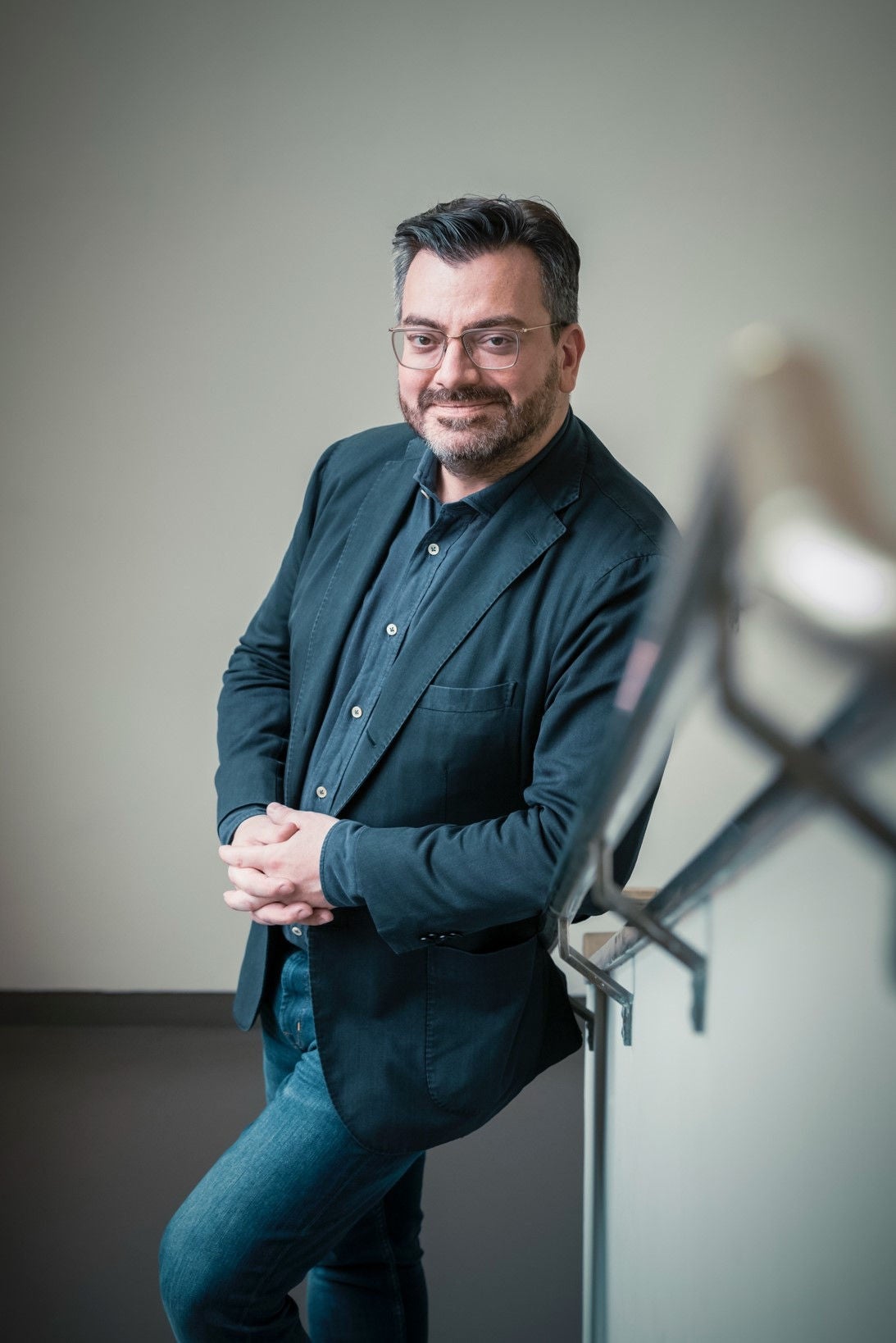 House of Communication Berlin
Let's get in touch with us!